Ruggeri, decided to build his villino in 1902; for industrial demonstration would represent a fulgurating resounding social success, in full consonance, at the beginning of the new century, with the identification of Art Nouveau as the style of the wealthy bourgeois class .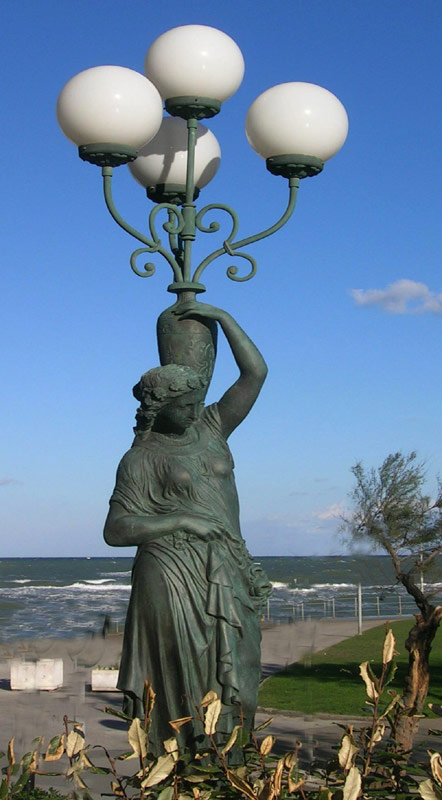 Iin 1902 bare building structure was already finished, while the exterior and interior decoration works, have lasted five years, involving the best local artists, craftsmen and workers.
The building, covering an area of just 90 sq.metres and has a height not exceeding 15 metres, is situated in a walled garden in the shape of a Pentagon, which has an area of about 800 metres. The splendid garden railing by Ferdinand Bardeggia,was destroyed in 1936: remained only the great gate at two doors supported by two pillars reconstructed in 1963 and restored the new lighter railing redesigns by Francesco Giannei.
Greenhouse, benches, gazebos, plants, flowerbeds and alleys of that garden typically Liberty are gone, also destroyed by war: remained only a large circular fountain, decorated with big lobsters.
The four façades are different from one to the other, but the complex harmonize and give a sense of extraordinary homogeneity, although the eastern façade decoration much more rich.
Another element combining today disappeared: the chromatism naturalistic exasperated of the whole complex, enhanced by a sort of brocade green, purple and gold painted in parts a mirror of the facades and confirmed by windows, lost during the war. The existing door, lacquered wood gray-green, repeats partially the design very beautiful bronze door, the work of Alfredo Cartoceti, replaced in 1921, and in which were also carved in bas-relief the busts of Ruggeri, the wife and children. The wealth of windows, fitted with shutters only in 1921, shows the great love for air and the light which qualifies the modernist era and that has here a very faithful consecration.
In 1907 the building, now completed, was occupied by Ruggeri and his family: when the villa was opened all the windows, the decoration of the rooms and the furnishings were consistent with the building, including the chandeliers, the handles of the windows, the covers of beds and crockery: originally there was nothing that was not Liberty.
Already before the war of 1940 had taken place inside some transformations and changes; during and after the war took place very serious faults with the loss of many decorations in tempera, the stained-glass windows, the leather bulinata, large tiles, ceramics and wood of the dining room, chandeliers, the opalescent glass diffusers of lampholders and numerous pieces of furniture. Todayf the basement and mezzanine floor is no longer the original, while no change was made on the second floor.
In the garret, although it retained the original allocation in four rooms, turned one of these in the bathroom. The ramp of stairs with railing that leads to the upper floors can be attributed to Ferdinando Bardeggia from Pesaro of Brega's design.
The execution of the furniture in the dining room seems to be by Venturini for wood and by Federici for leather. The second floor includes the bedrooms, the cabinet bathroom and one studiolo. This is the part of the house which is better preserved the original decoration with many of the stuccoes and paintings of Brega. The rooms are named by floral motifs: the 'room of wisteria', 'room of the narcissus', 'room of sunflowers'.To develop in every moment harmoniously and coherently the suggestions made by ingenious invention of the unknown french architect, Ruggeri and Brega fulfilled their work to the villino without doubt in extraordinary and fruitful spiritual affinity. As for the rest sets out the written in characters Liberty on the lintel of the main entrance: "Concezione di Oreste Ruggeri proprietario e di Giuseppe Brega esecutore - urbinati - 1902 - 1907". ("Conception of Oreste Ruggeri owner and Giuseppe Brega performer - urbino - 1902 – 1907")